Description
Turn water scarcity into water abundance!
Real life stories and examples permeate the book, including:
How curb cuts redirect street runoff to passively irrigate flourishing shade trees planted along the street
How check dams have helped create springs and perennial flows in once-dry creeks
How infiltration basins are creating thriving rain-fed gardens
How backyard greywater laundromats are turning "wastewater" into a resource growing food, beauty, and shade that builds community, and more.
How to create simple tools to read slope and water flow
More than 225 illustrations and photographs
"What a wonderful, enthusiastic book. Brad Lancaster lives what he preaches – a water-careful lifestyle that is all about more life." – Ben Haggard , author, sustainable systems designer and teacher
Published April 21, 2008
Rainsource Press
Paperback, 336pages, b&w photographs with illustrations.
Size: 8.5in x 11in.
ISBN: 9780977246410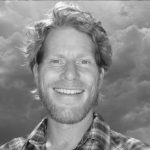 Brad Lancaster
has taught, designed, and consulted on regenerative-design systems of permaculture and integrated water-harvesting systems in seven countries since 1993. He created and lives on a thriving solar-powered 1/8th-acre urban oasis in downtown Tucson, Arizona, which harvests 100,000 gallons of rainwater a year where just 12 inches falls from the sky. Brad's dynamic books, talks, workshops, and living example have inspired tens of thousands of people to 'plant the rain' to sustainably grow their local resources. Visit his website at
HarvestingRainwater.com
.