Description
By the author of the acclaimed The Complete Bushfire Safety Book, this third edition deals with people's fears and concerns about wildfires in general, and the maze of official safety policies. Its straightforward style clears a path of understanding through the tangle of conflicting opinions and misconceptions. It identifies the shortcomings and likely adverse repercussions of some of these policies, defines the actions necessary for people to stay safe during a bushfire – and their homes to remain intact – and sets out safe procedures.
Essential Bushfire Safety Tips reveals the scientific post-wildfire research into why people who stayed with their homes died during the 2009 Black Saturday fires. It shows that, despite the almost universal media reports that "nothing could be done to save homes on such a day", many householders did, in fact, save their homes.
Included are chapters on township protection; shelters, refuges and bunkers; as well as information on choices of home bushfire safety strategies; protective house design, furnishings and gardens; protection of animals; and first aid.
"I am alive today because I read Essential Bushfire Safety Tips" – Robyn Mitchell, Woombah, NSW

"This book has been the only reliable source of information for sometime'" – Phil Cheney, former director of bushfire research CSIRO.
---
Download Joan Webster's 3 Core Bushfire Primer Flyer to stick on your fridge as a quick reference guide on key bushfire issues – be empowered by being prepared.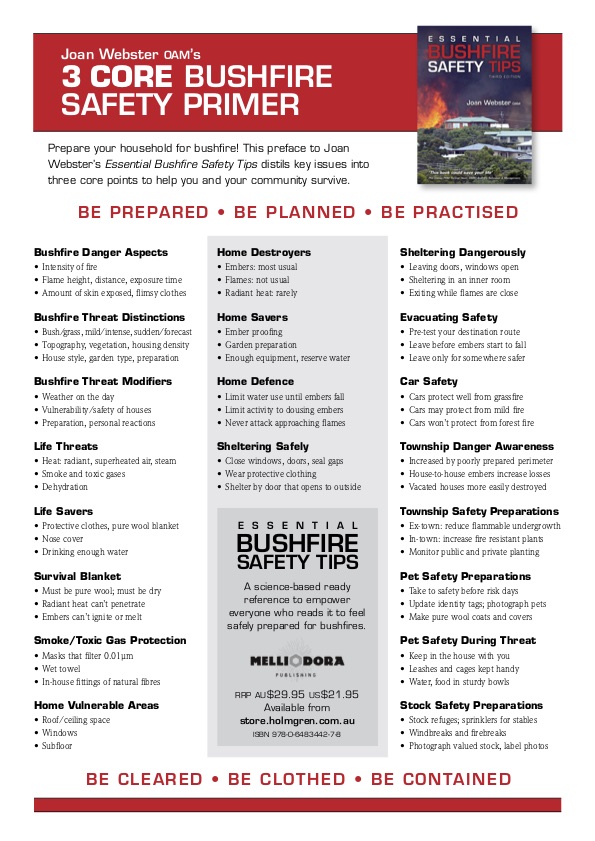 Published October 2021 (3rd Edition)
Melliodora Publishing
Paperback, 192 pages, b&w
Size: 5.8 x 8.3in (A5)
ISBN: 9780643107809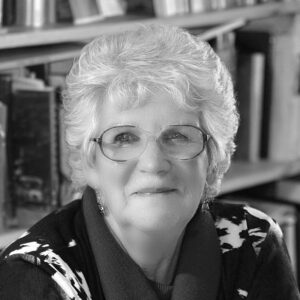 Joan Webster OAM has been writing about Bushfire safety for over 50 years. In 1990 she received the Australian Fire Protection Community Service Award. In 2010 Joan was awarded The Order Of Australia Medal for 'service to the community in raising awareness of bushfire safety'.
Joans bushfire research has helped changed the way Australians prepare for the fire season. Not only has her work helped save lives and homes, it is used by fire authorities in Australia and internationally. joanwebsterauthor.wordpress.com/